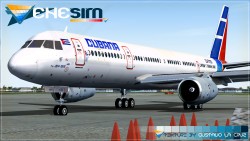 Thumbnail 1 / Thumbnail 2  / Thumbnail 3 / Thumbnail 4
The Tupolev Tu-204 is a twin-engined medium-range jet airliner capable of carrying 210 passengers, designed by Tupolev and produced by Aviastar SP and Kazan Aircraft Production Association. First introduced in 1989, it is considered to be broadly equivalent to the Boeing 757 and has competitive performance and fuel efficiency in its class. It was developed for Aeroflot as a replacement for the medium-range Tupolev Tu-154 trijet. The latest version, with significant upgrades and improvements, is the Tu-204SM, which performed its first flight on 29 December 2010.
This pack conta2D panel, Overhead of Completed systems,  engine starting and partially lighting, ground service panel launcher on it APU (but there are separate , a close-up), The average control, Control Panel refueling, Collapsing by clicking displays, remote control display, Radio panel, Service unit, FMC , Tu-204 FCOM.  Credits : Model aircraft by Cirilo Bardahaev, Project by Michael Smironov,  panel of FSX version by Markovtsev Andrey/Andrew Apícolas/Danilko Petro/Sukharevich Alexander/Smolenchuk Valery/Huin Menzyao Xiao and panel Fs2004 version by Marco Spada,  FRE by Anton Fulman,  Effects by Valentín Kazakov, FMC Sistem by  Juan Kvinner, Sound Pack by Franziskaner Weissbier, Texture by Gustavo La Cruz
Note: additionally require 3d lights payware  from Shockwave.
FS2004 Version:
FsX Version: